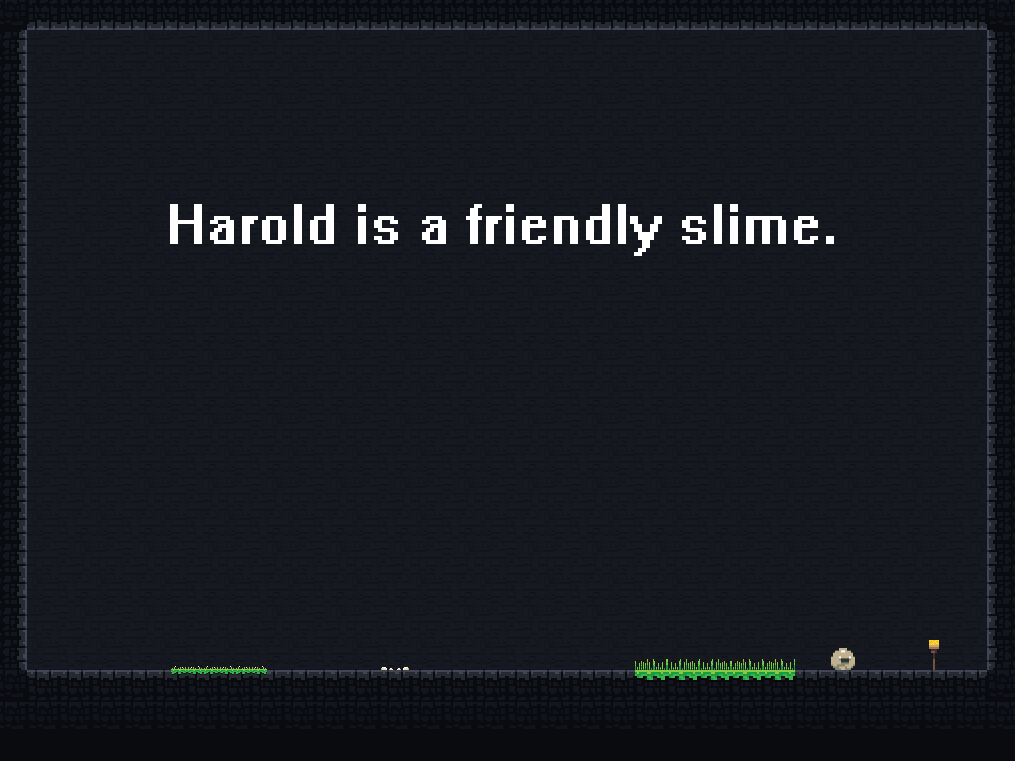 Harold The Friendly Slime
A downloadable Hardcore Platformer
Harold The Friendly Slime!
Harold is the only friendly slime in the dungeon. So after years of evil, he decided to leave the family dungeon!
Harold the Friendly Slime is a fast paced 2D platformer. With tight controls and an epic 8-bit soundtrack, Harold the friendly slime brings back memories from a earlier time. The game mixes the gameplay of WizardWizard and Super Meat Boy to create the next great platformer.
Infinity Squared Games is funded by donations. Please consider donating so new and exciting games can be brought to you. :D

Development Roadmap:
The game is finally finished. I have decided to keep the price free, and allow more people to be able to download the game.
System Requirements:
Basically don't have a potato.
Also, the game runs at 1024 x 768
Contact Info:
email:
infinitysquaredsoftware@hotmail.com
Dev-Blog and other info:
http://www.indiedb.com/games/harold-the-friendly-slime

Download
Click download now to get access to the following files:
Harold The Friendly Slime.exe
75 MB
Comments
Log in with itch.io to leave a comment.
I made it to level 9. I enjoyed playing. Thanks
Thanks for the mention man! I played through this with my girlfriend and we had some fun!
Some thoughts we had were: The player not snapping to the moving platforms and moving with them is very disorienting and not very easy to control. While it does provide more challenge it doesn't seem like a fair challenge because I don't feel entirely in control. I felt like my success in those areas were more based on luck then my own skill. The spring platforms weren't very intuative, it took quite a while to work out how they were used, maybe if they launched the player on contract as an alternative?
We loved the cute animation and music. It'd be great to see the pixel art expanded upon to make the environments a bit more interesting and break up the repeating patterns.

Thanks for the fun!

Thanks for the feedback! I just released an update that changes how mushroom work, and moving platforms are a bit different. If you wanna see more, you can read about it at the game's indieDB page :D
Great game! It is fun to play and is addicting because I always want to overcome the little annoying difficulties in the current level I am on. Made it to level 14.
Hey Infinity Squared Games. Great game but tough for me on level 11. Too old I guess.
Thanks so much for the reply! Level 11 is when the game starts getting really hard :). Hopefully I should have an expansion with more levels in the next week or two.